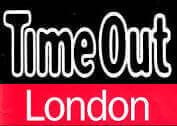 Time Out Magazine - The best online shops for flower delivery in London
Looking for the perfect bouquet? Try one of the best online florists in London.
Someone got a birthday coming up? Or a wedding? An engagement? A new little bundle of joy? Or maybe you need to apologise because you've done something stupid? Or perhaps you've forgotten a birthday, wedding, engagement, or birth of a little bundle of joy? Well, one thing we know will work wonders is to get whoever it is a bunch of flowers – and get them delivered right to their door. This is how you make people happy. Lucky for Londoners, there are a million-and-one incredible florists all over the city, and a million-and-one ways to get beautiful bouquets delivered the very same day (or the day after). So don't panic, you're sorted – and we've made it even easier for you. Because here are the best flower deliveries in London, each one hand-picked by Time Out experts. 
The best online shops for flower delivery in London
Looking for the perfect bouquet? Try one of the best online florists in London
https://www.timeout.com/london/shopping/londons-best-online-flower-shops